New Year's Eve is upon us again, and it's always nice to get the first moments of the new year captured.
While I finish my article and video about RAW editing on iPhone to follow up my last RAW on iPhone article, I figured I'd share my 5 tips to make your shots of the last night of the year shine by shooting with Halide:
1. Underexpose for fireworks and sparklers
Pushing your exposure down a bit helps your camera not blow out the colors and highlights of the bright fireworks and sparklers. If you're fairly close to them — that is, they take up about half of your screen — you should push down about 0.5 to 1 EV. Not only do you get more fireworks details, you will also 'freeze' the motion better and get a sharper shot, as the shutter speed will be shorter! With sparklers, the background is darker and the sparkler looks brighter:
The above is a great shot by Halide user Vainer91 showcasing some good sparkler-snapping.
In Halide, just swipe down slightly on the viewfinder to compensate your exposure down a bit. Voilà: sharper fireworks shots.
2. Play with manual focus
We all love bokeh, and fireworks bokeh are pretty spectacular. iPhone's bokeh is surprisingly nice. See for yourself: if you snap say, a Christmas tree out of focus, you can get a pretty effect. At New Year's Eve, snap a few shots of the fireworks display that are completely out of focus! It sounds counterproductive, but the abstract shapes of light can be gorgeous.
To focus manually in Halide, just swipe left on the focus bar or tap 'AF'. If the focus bar is set completely to the left, things that are far away will be as blurred as possible, creating pretty bokeh for light sources! Also try the second lens on your iPhone 7+, 8+ or X; it has different bokeh that is quite pretty.
Here's a video tutorial as well, which also covers using Focus Peaking.
3. Shoot RAW — or don't
Depending on your lighting conditions, you might opt to use RAW. Generally, you will want to shoot in RAW only when there's a lot of light (or fireworks!), so you avoid excessive noise in your shots.
If you shoot in a darker setting, like a few lone bangs against an inky black night sky, try turning off RAW. Your shots will benefit from iPhone's powerful noise reduction, making the sky and fireworks appear more uniform at the cost of a bit of detail. Here's how you turn on RAW in Halide!
Additionally, you can customize the controls in Halide to put the RAW button in the most convenient place for you, so you can quickly toggle it.
4. Use a tripod — or a free alternative
Getting some firework shots can be difficult if you're holding your iPhone in your hands. Using a mini-tripod like the Manfrotto Pixi with an iPhone tripod mount like the Studio Neat Glif can help get you steady shots, and you can set your shutter time longer as a result.
You'll also have your hands free for a glass of champagne or a Dutch oliebol.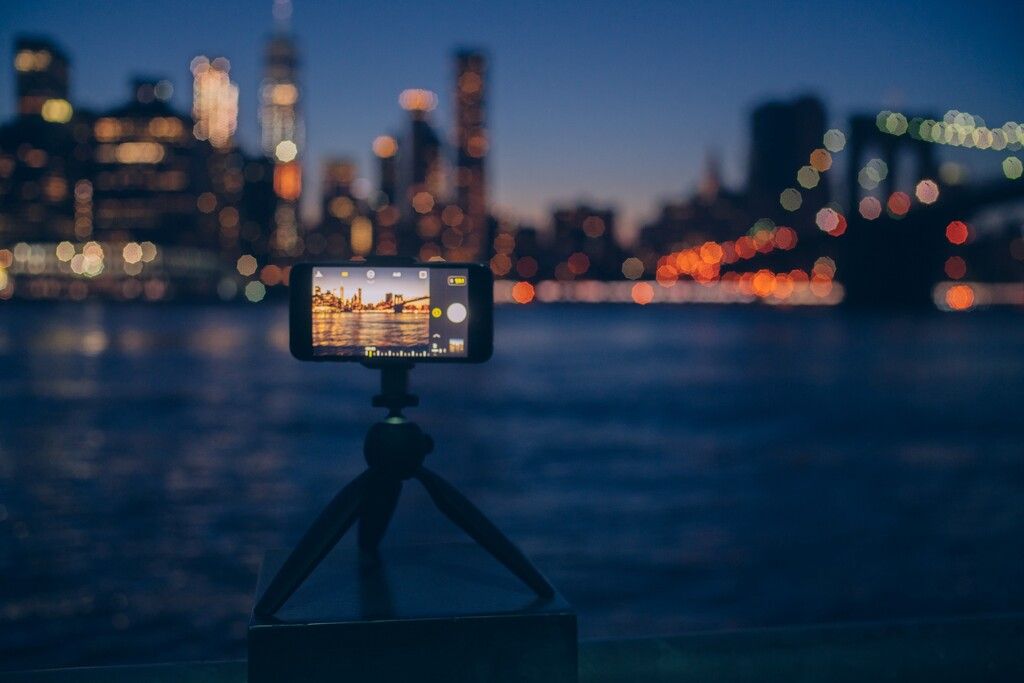 Don't have a tripod handy? If your iPhone is in a grippy or flat-sided case, you can try balancing it against a fixed object like a railing or a bench and use that as an improvised way to get steadier shots. Experiment with it (but be careful, we're not liable for cracked iPhones…)!
5. Don't get too caught up trying to shoot
In the end, the evening isn't just about photography. Shoot responsibly: fireworks are a spectacle, and family holding sparklers is beautiful, but don't forget to put the iPhone down to enjoy the moment!
Happy new year! We're looking forward to seeing your shots.