We have an exciting year planned, and we're laying the foundation with a significant update to Halide.
We put immense care into making Halide an incredible app for taking photos. Not only do we sweat every aspect of the interface, but we go through months of work to make it possible to capture shots that you never realized were possible. This update is different, however: instead of focusing on how you take photos, we've worked on how we keep your photos.
The Updated Gallery
After the camera, our gallery is the most-interacted with part of the app. It's a minimal, beautiful view that displays your shots. The biggest changes here come what we call the Grid: the overview of your shots.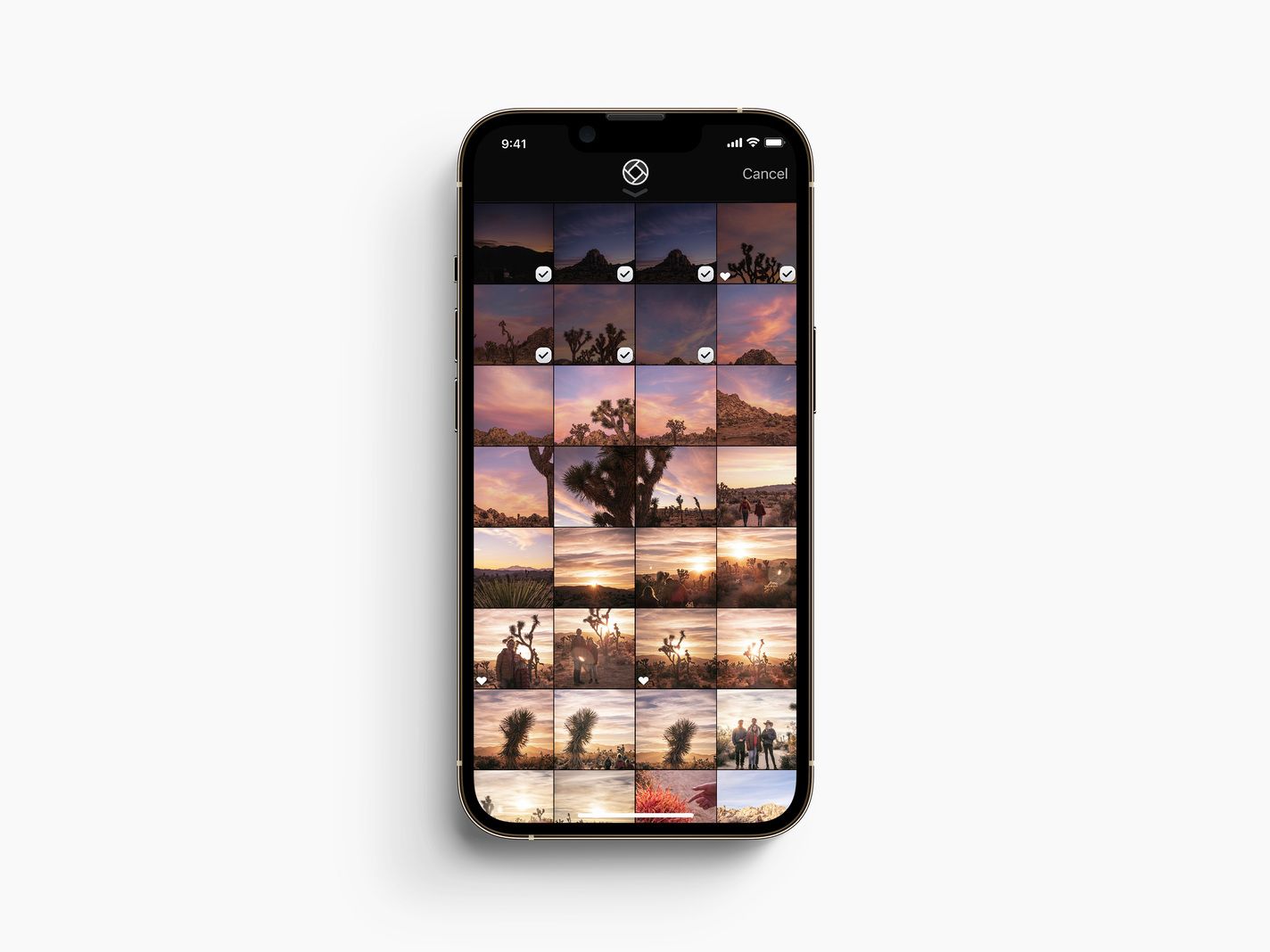 The changes begin with the basic interaction. When you tap that last-photo button in the lower left of Halide, we first bring up a full screen image of your last photo. If you'd rather see a grid of your most recent photos, you previously tapped the icon in the upper left.
Now, in true form with our general satisfying gesture-based interface, you can use a new gesture to avoid reaching to the top of the screen. Just swipe up on a photo. It feels surprisingly satisfying. With a bouncy snap, you pop out to the Grid:
And here's the real big new feature.
You'll notice a new "Select" button in the upper right. By popular demand, you can now perform actions on batches of photos at once! This is a bigger deal than you'd think: Previously, we got many inquiries on how to, for instance, share RAW shots with your Mac or PC for processing.
Apple's Photos app will always grab the processed (HEIC / JPG) version of a RAW+JPG capture when selecting and sharing shots, for instance. Halide will prompt you to choose which version to share, and let you AirDrop or share it through any way that you normally would.
Another thing: this sounds like a small change (literally), but notice that favorited photos show a small heart icon. This makes for easy curation after a shoot. Just swipe through your recent photos and use "favorite" to tag your picks. Then swipe up to view the grid, and batch delete the ones without hearts.
Finally, each photo in the gallery view now has a context menu, so you can quickly act on photos without jumping between screens. Just long-tap on a shot to take some quick actions on your captures.
A Short History on a Longstanding Bug
We take a camera reliability for granted. While these aren't the same stakes self-driving cars, cameras capture life's most important moments. When a bug costs you a precious memory it's heartbreaking. So whenever we hear about lost photos, we drop everything to investigate.
In early 2020, we heard reports from users about photos disappearing. This was definitely a 'drop everything and investigate' situation. Our investigation uncovered a bug in iCloud. This was frustrating: While we can't fix bugs in iOS, we can try to work around them. We responded by building something we call "Image Rescue," which allowed you to access a backup copy in the event it was lost by the cloud. We can say from own experience, this feature has saved quite a few photos.
About one year later, we began hearing reports of a different problem. You'd tap the capture button, and Halide would show you a scary error message.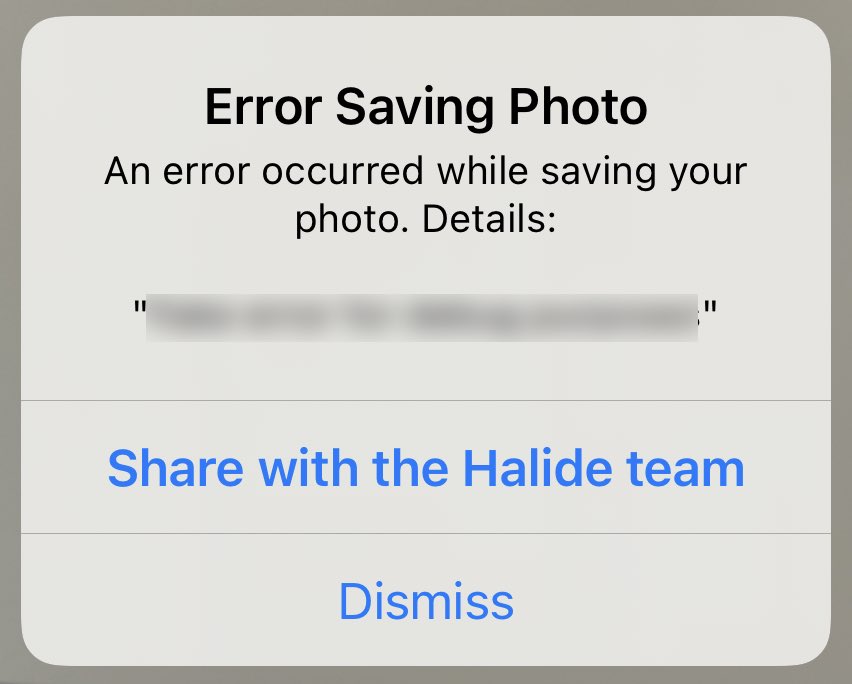 We — once again — dropped everything to investigate, and found a new bug within iOS. While relatively rare, it was extremely frustrating when it struck, temporarily preventing you from saving any photos. Some users reported only seeing it once, and it went away within minutes. An unlucky few said it popped up all the time, and never went away. We can imagine getting annoyed to the point of quitting a camera app for good with an issue like this.
We spent considerable time last year collecting clues and constructing theories, which we shared with Apple. Thanks to some communication back and forth, we're happy — ecstatic, really! — to report a major drop in these errors in iOS 15.2. We suggest all our users upgrade to the latest iOS to make sure your images are safe.
To support our users as these errors inch to zero, we're shipping a big change.
Image Rescue 2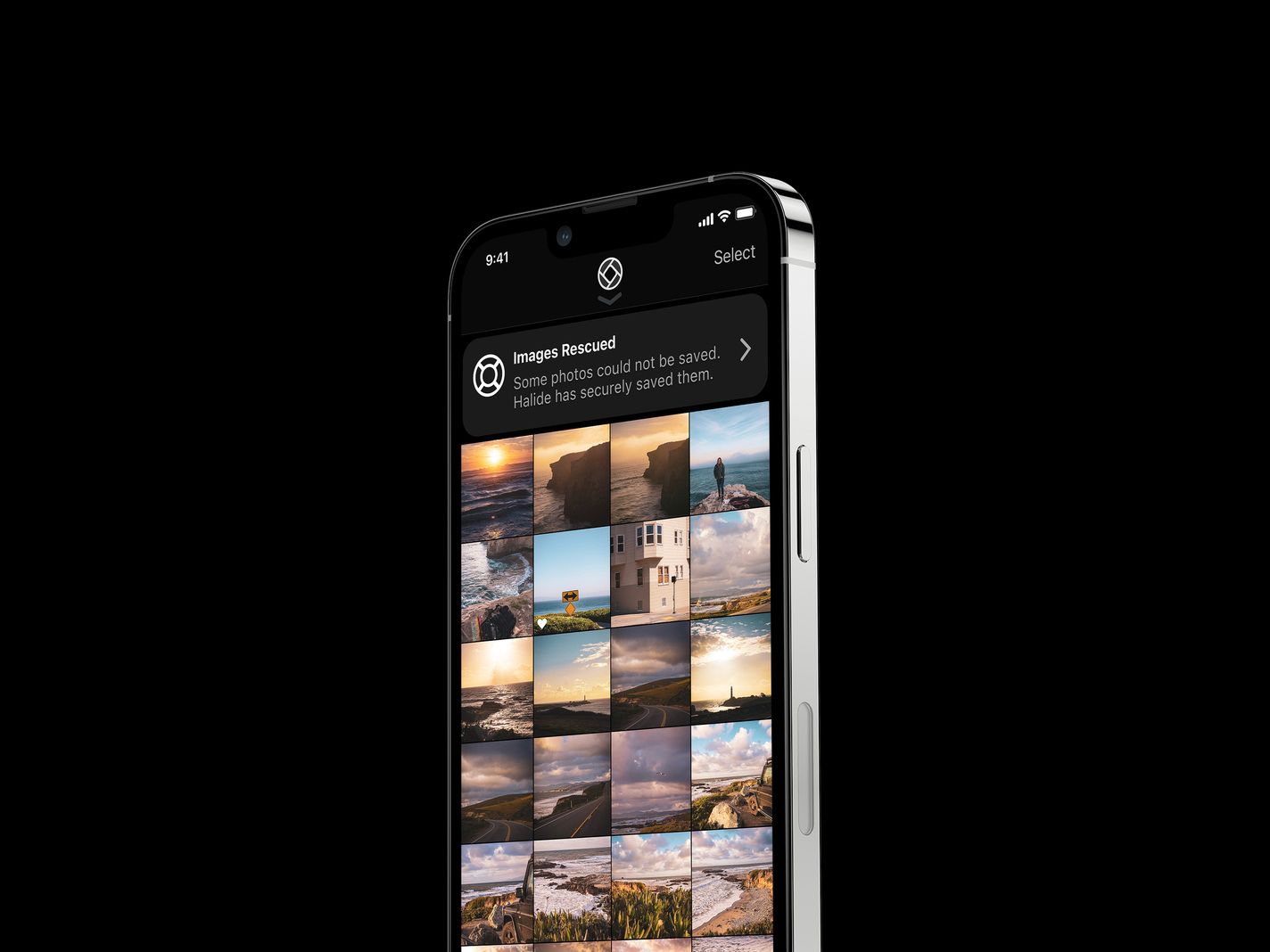 We've rebuilt Image Rescue to help catch this new error, and whatever issues may come up in iOS 16 and beyond. We've also improved the user experience to make it easier to find those lost photos. Let's walk through what happens.
Let's say that you tried to snap a photo, but iOS refuses to save photos to your photo library. You'll see this unobtrusive notification in the camera.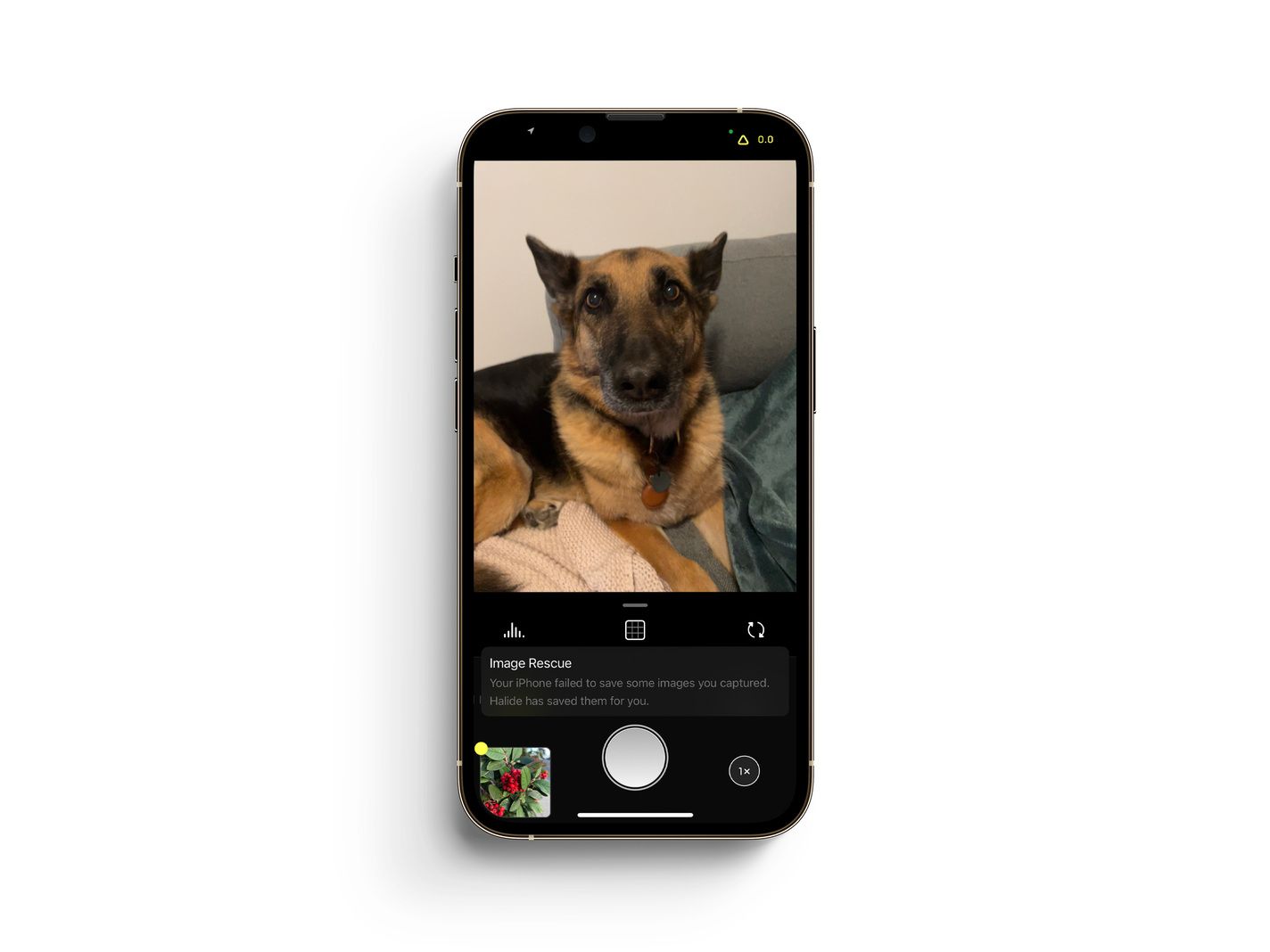 If you're in the middle of a shoot and would rather deal with the problem later, you're welcome to ignore it. You'll notice a little yellow dot to remind you something is up. When you're ready to deal with the problem, just open the photo reviewer. You'll see a big banner up top.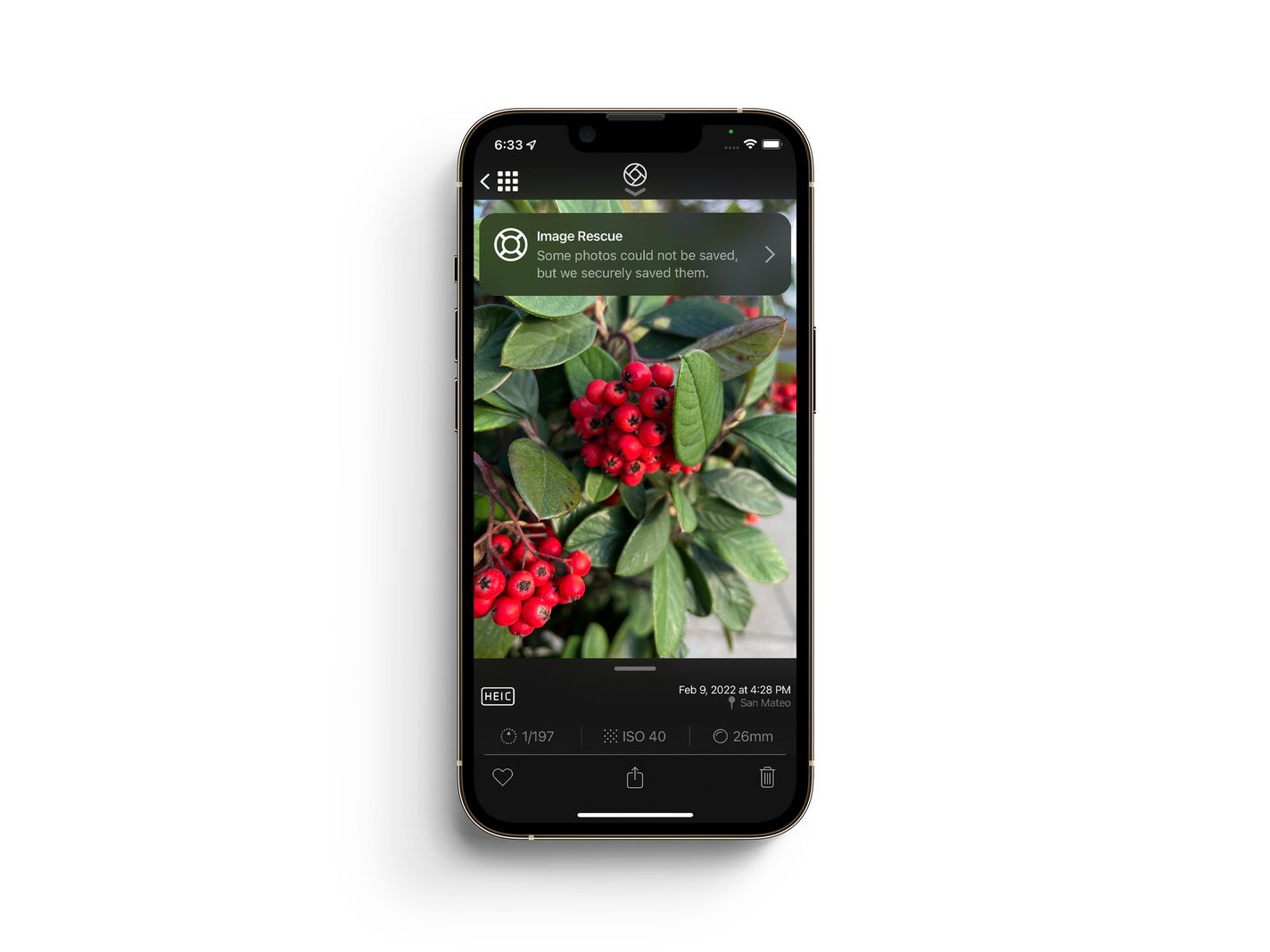 If you tap on it, we'll show you your photos stuck in limbo.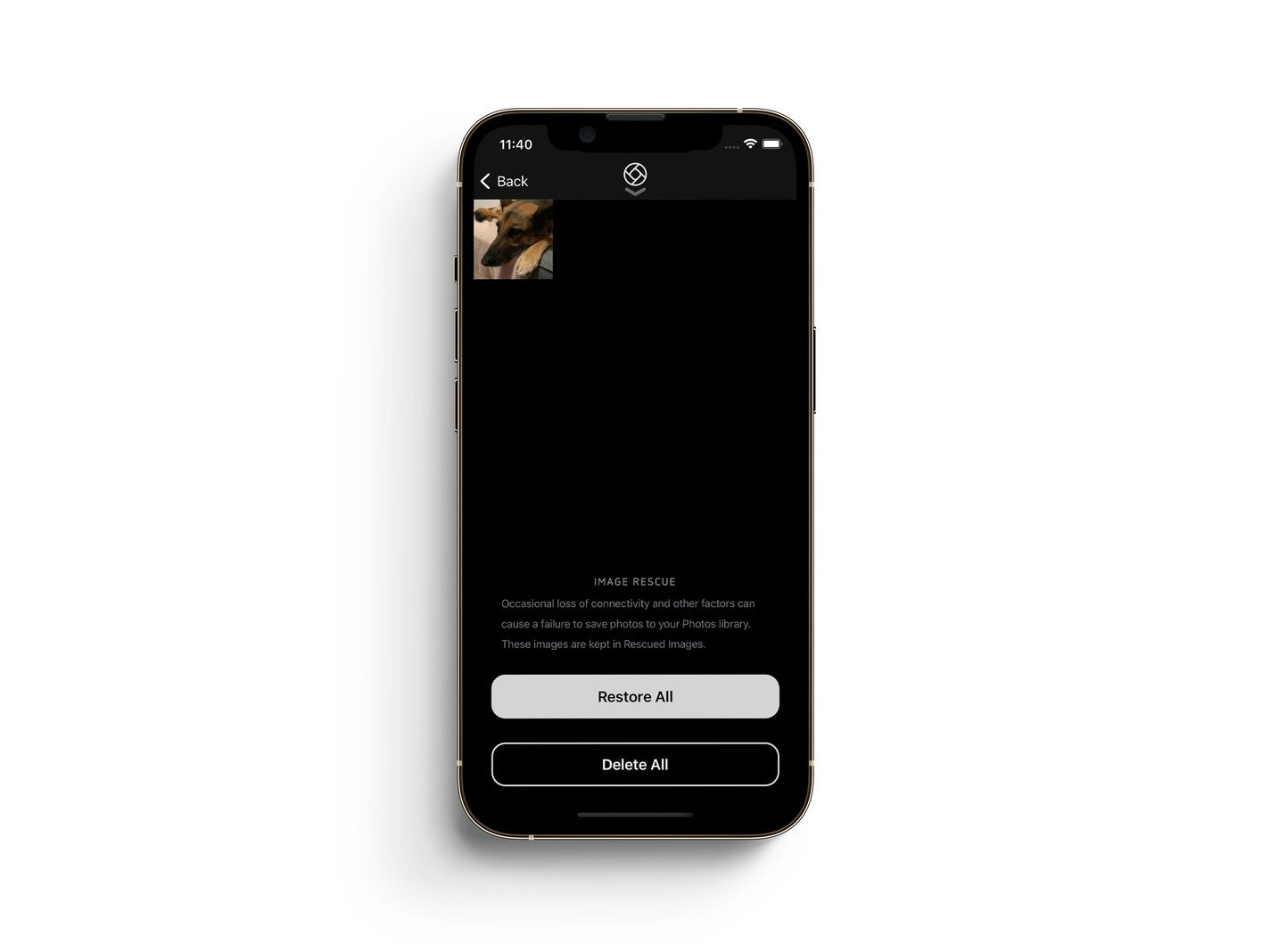 Tap on any item to see a larger preview.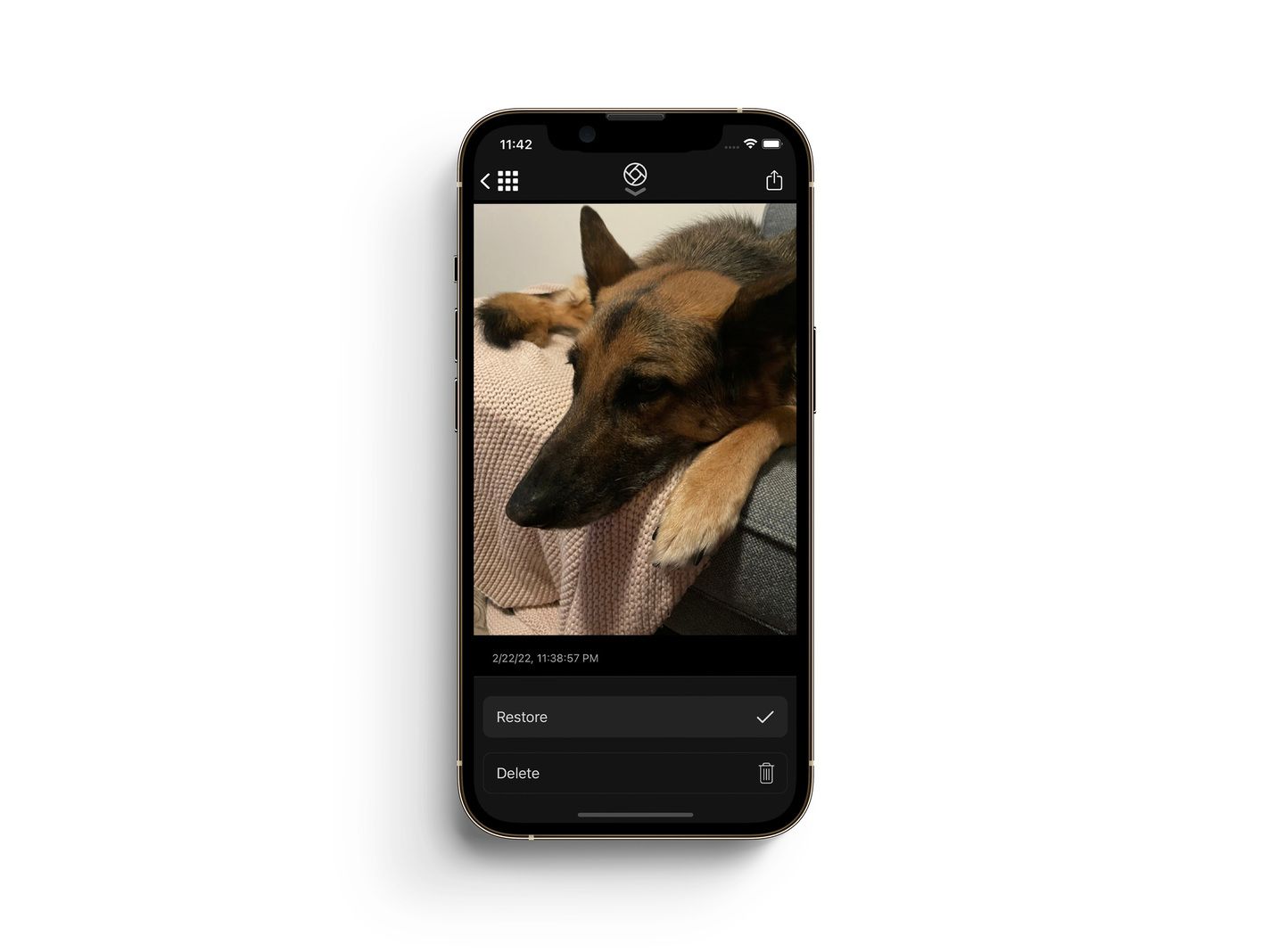 Often, these photo library problems just go away, so the best option is to wait a moment and try saving again. If it still doesn't work, tap the action button in the upper right to use iOS share sheet; from there you can try AirDropping your files to your Mac, email them, etc. Finally, if you've change your mind about the photos, you can always tap delete.
It's a shame to spend so much time on a feature we hope you never see, but there's a silver lining. These changes required us to redo a bunch of plumbing in our photo reviewer, so we used this renovation as an opportunity to ship some improvements we've had in the back of our minds for a while.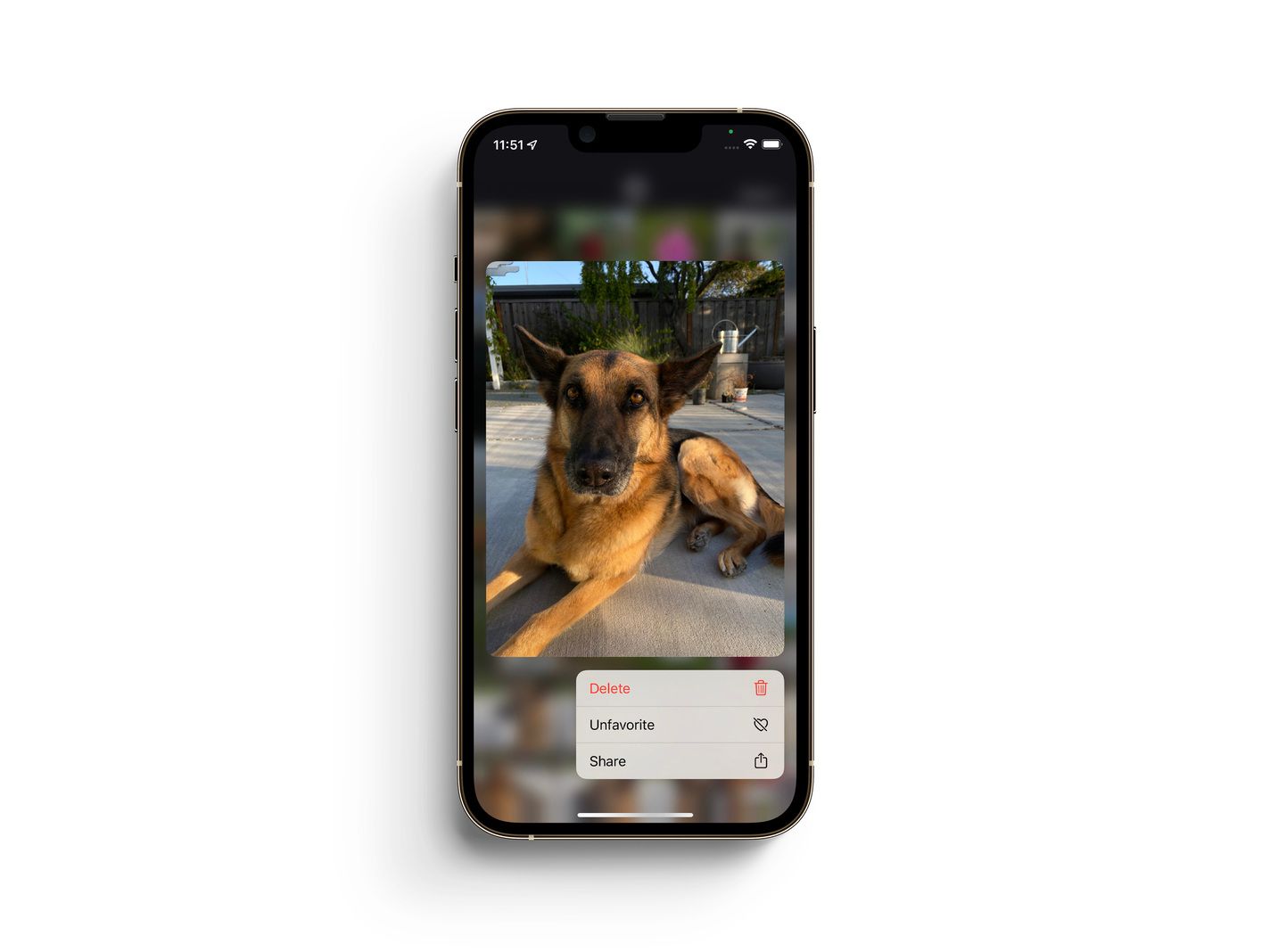 Moving Forward
As we said at the start, we think this lays a strong foundation for the rest of the year. We've spent quite a bit of time on this capture iOS bug, and we hope the new Image Rescue combined with the iOS 15.2 fixes will finally put this problem to bed, so we can put all of our effort behind some exciting things on the horizon.
And that's it for our big update — the first one of 2022 — that really focuses on keeping shots rather than taking them. We've got some really cool new things in the works for 2022, but we hope this update will pay off both when it comes to sharing and saving your most precious memories.
Halide 2.7 is out now for everyone — grab the latest update on the App Store.