It's that time again. Every year, we take a deep dive into what is new in the iPhone camera. This year is special: Apple is introducing several new cameras in the iPhone 12 and a whole new sensor in the iPhone 12 Pro Max.
We'll be doing a thorough analysis of the iPhone 12 and 12 Pro Max cameras, comparing them to previous iPhones and tearing down the new processing in Smart HDR 3 and the benefits of their new lenses. First, however, we'll take a quick look at what is new in the iPhone 12 Pro Max.
Why just the iPhone 12 Pro Max?
The iPhone 12 Pro Max is the first iPhone in a while to get a bigger sensor. Not just a bit bigger: the sensor is a whopping 47% larger, which should not just help it in low light but also allow for more depth of field, more detail in photos and generally a different 'look'.
A note: These are just the hardware specs
Thanks to Halide's Technical Readout feature, we can take a look at what an iPhone reports as its camera specifications.
iPhones tend to get better every year even when not changing their sensors and lenses; the real leaps in camera performance are made in computational photography, with merging many images and using AI and machine learning to augment the tiny sensors that fit into these magical devices we hold in our hands.
As usual, we're following up with a look at the work that is being done to turn simple raw sensor data into such great shots.
What's New?
47% Larger Sensor, 85% More Sensitive
A new sensor means new specs. Paired with the new, faster aperture the iPhone 12 gets across the line of ƒ/1.6, the iPhone Pro Max does not just gain low-light ability with its sheer sensor size or new in-body sensor-shift stabilization: the maximum ISO sensitivity of the sensor is up 85% to a maximum ISO of 7616.
That's the highest ISO sensitivity we've seen in an iPhone, ever.
This should make for a pretty fantastic iPhone for night- or low-light time shooting.
While computational photography can help a lot with collecting more light over more shots, higher ISO can also help freeze motion better; this makes this iPhone uniquely more suited for capturing action in lower light. You can do a lot in software, but not everything.
A new telephoto lens — 25% zoomier
The technical readout confirms we're going to about a 65mm (Full-frame equivalent) telephoto lens on the rear, with a slight sacrifice to light-collecting ability: we lose our nice ƒ/2.0 aperture and go back to the iPhone XS and X telephoto-standard ƒ/2.2. Not too terrible.
When composing, this is the change in your field of view: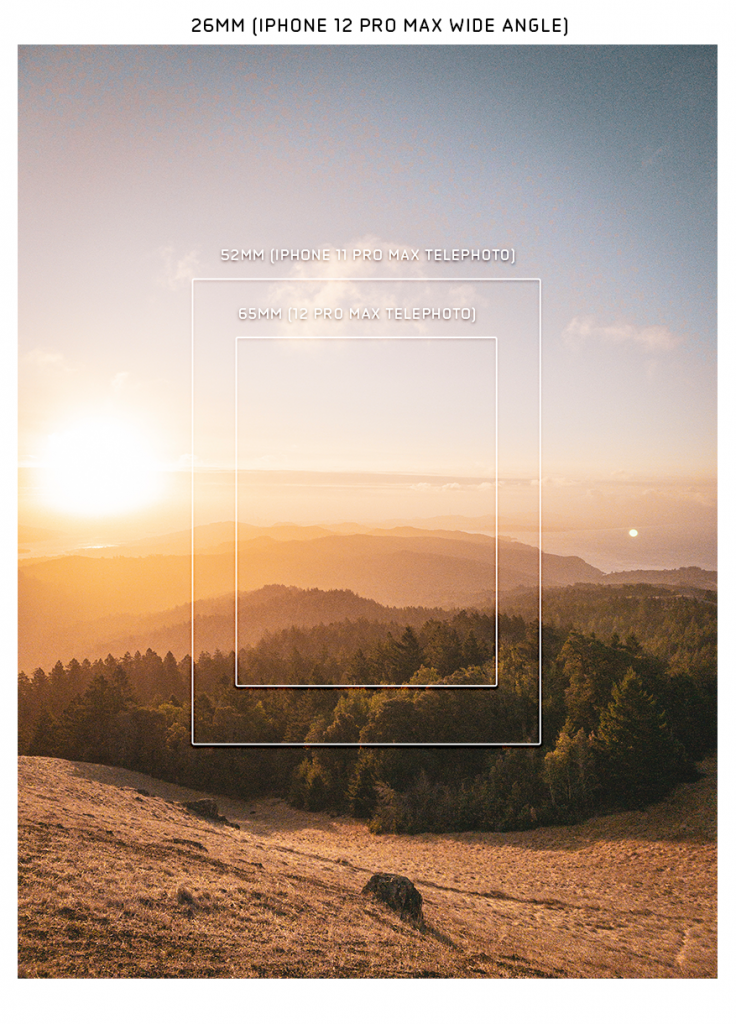 That's a nice 25% of extra zoom.
Here's an actual comparison of how it would shoot and what kind of image you would get: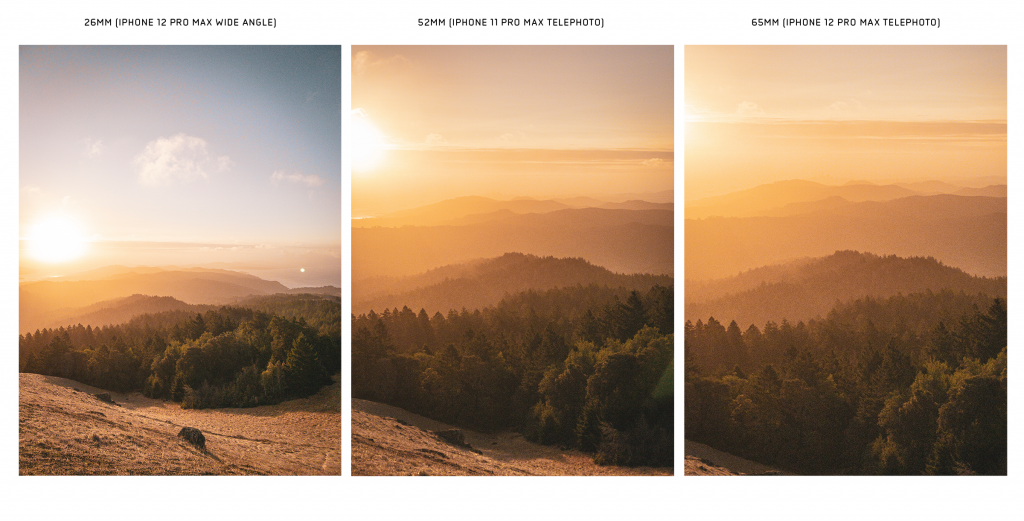 It's not a huge change, but it might be more dramatic in real-life use.
What isn't new
There's changes, but there's also things that stayed the same.
Ultra-wide ultra-same
Every lens seems to have gotten a revision with this new, larger phone, and very eagle-eyed iPhone users might notice that it is also… larger: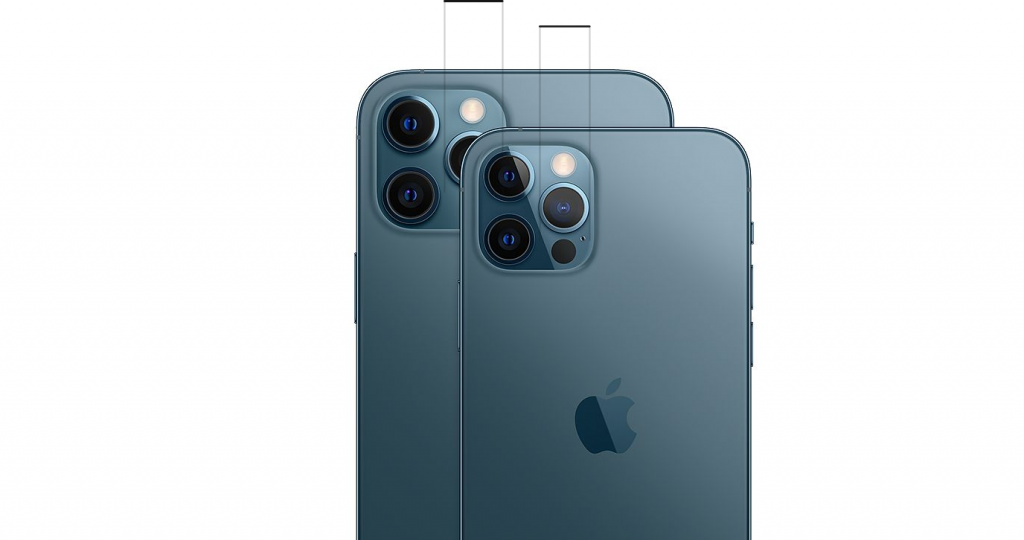 However, it seems by the technical readout and from reviews that the ultra-wide lens and sensor is the same one as in all the other iPhone 12s. It might get a larger bump on the back of your phone, but it's not collecting more light as a result. Sorry, Pro Max-ers.
You do get a slightly improved ISO sensitivity and night mode on all iPhone 12 Ultra-Wide cameras. Yay!
Longer lens, same sensor
No changes in the telephoto sensor. This is unfortunate, as the telephoto lens is my favorite:
Its sensor has been a bit… well, it is just not as great as that awesome regular wide-angle sensor. I don't want to call it 'underwhelming', but it's been the same size since the iPhone XS and it still struggles a bit in low light. I would certainly be excited by a revision next year.
You might notice this even more on the iPhone 12 Pro Max, as the iPhone's default camera app will just crop the image from your (now even faster, better-in-the-dark) Wide lens when the light gets low or conditions are otherwise non-optimal for the tiny telephoto sensor. It'll be interesting to see if the Pro Max more aggressively forces the telephoto to step back in low light.
Same old TrueDepth
Since the iPhone X, the infamous 'notch' of the iPhone has stayed the same size. That little lip at the top houses a camera and a few other interesting tidbits like an IR flood illuminator and sensor; they have not been miniaturized or changed in this revision. Last year, the sensor got a small bump to 12 megapixels and a wider lens; perhaps next year we'll see a smaller notch and corresponding camera changes.
iPhone 12 Pro Max Technical Readout Comparison
That's it for my take — here's the raw specs you've been waiting for. Changes from last year's iPhone 12 Pro Max are bold.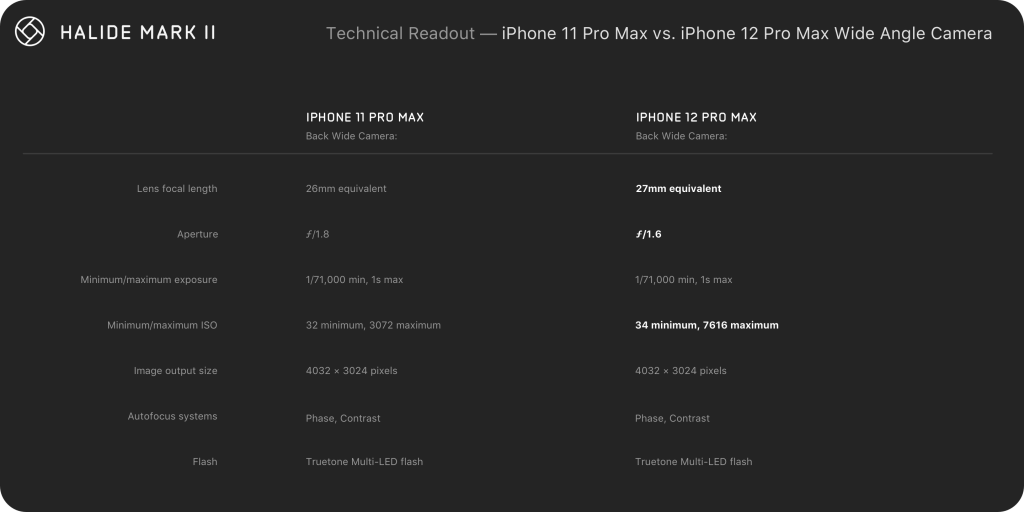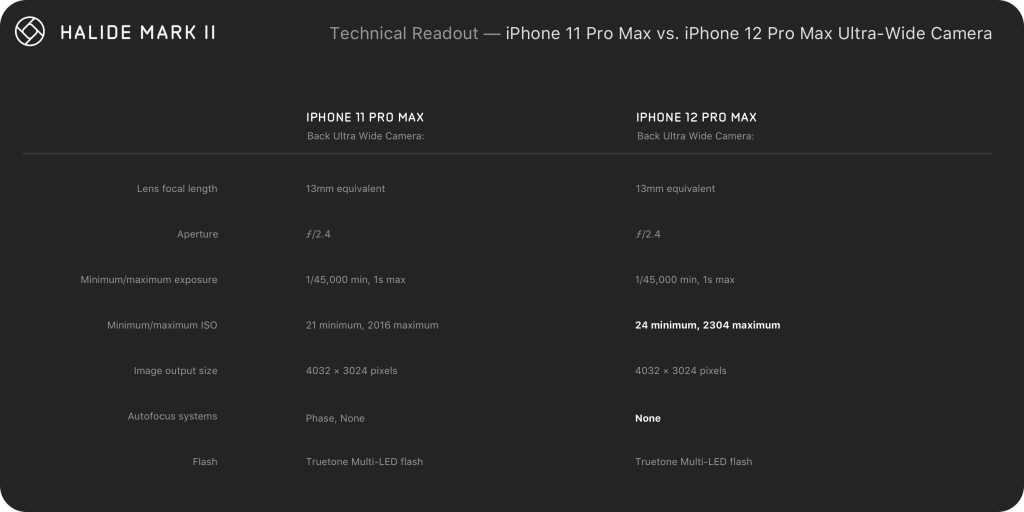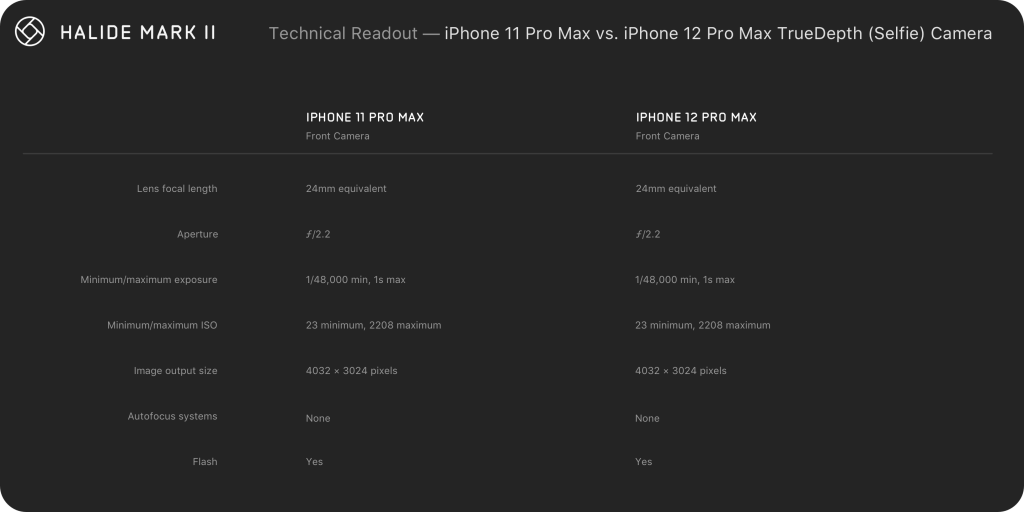 A note on these changes
Every year we are tempted to look at just the bare specs of iPhone cameras. As there's now competing smartphones throwing around terms like 108 megapixels and 100-times zoom, you would be tempted to make a judgment based purely on numbers. We'd caution against that.
Every year we re-emphasize that quality in mobile photography is now largely coming from the integration of hardware and software and increasingly significant leaps in processing in the form of computational photography. This year is no exception, new sensor size or not. When looking at the actual images coming out of smartphones, the iPhone continues to come out on top — and we wouldn't be surprised if the iPhone 12 Pro Max sets the new standard for mobile photography quality, regardless of its megapixel count.
We're curious to take these new iPhones' new software pipeline apart in our upcoming analysis, to see just how much they can squeeze out of a single RAW frame. With ProRAW coming this year, it's an exciting year for iPhone photography as Apple increasingly begins to treat it as a real camera, with proper RAW support, various settings for managing the imaging pipeline, and technology like sensor-shift image stabilization.
One thing is for sure: the new iPhone 12 is a fantastic camera:
Check back in with us for our upcoming software- and RAW analysis of iPhone 12 and iPhone 12 Pro Max.
This technical readout was brought to you by Halide. You can shoot RAW with every iPhone with Halide, and get pro-level controls. We just introduced a new version of Halide called Mark II, which packs some of our best tools and a total redesign. For more information on the app, check out our website.