This time of the year always excites us: it brings a look at what's new in iPhone photography. First up is our brief look at the technical specifications of the new iPhone 14 Pro cameras. Our next post field tests the new cameras and their output. Whether you are a first-time reader or a long time listener, we promise an exciting few weeks.
iPhone 13 Pro vs. iPhone 14 Pro
We expect the iPhone 14 to have the same camera system as the iPhone 13 Pro, minus its telephoto camera, so we'll keep this post limited to the iPhone 14's Pro version, which has the most major camera changes. Fortunately, the the iPhone 14 Pro and Pro Max have the same camera array, which keeps things simple. With the help of a Halide Technical Readout sent to us, it's straightforward to analyze the year over year hardware changes. But first, a disclaimer…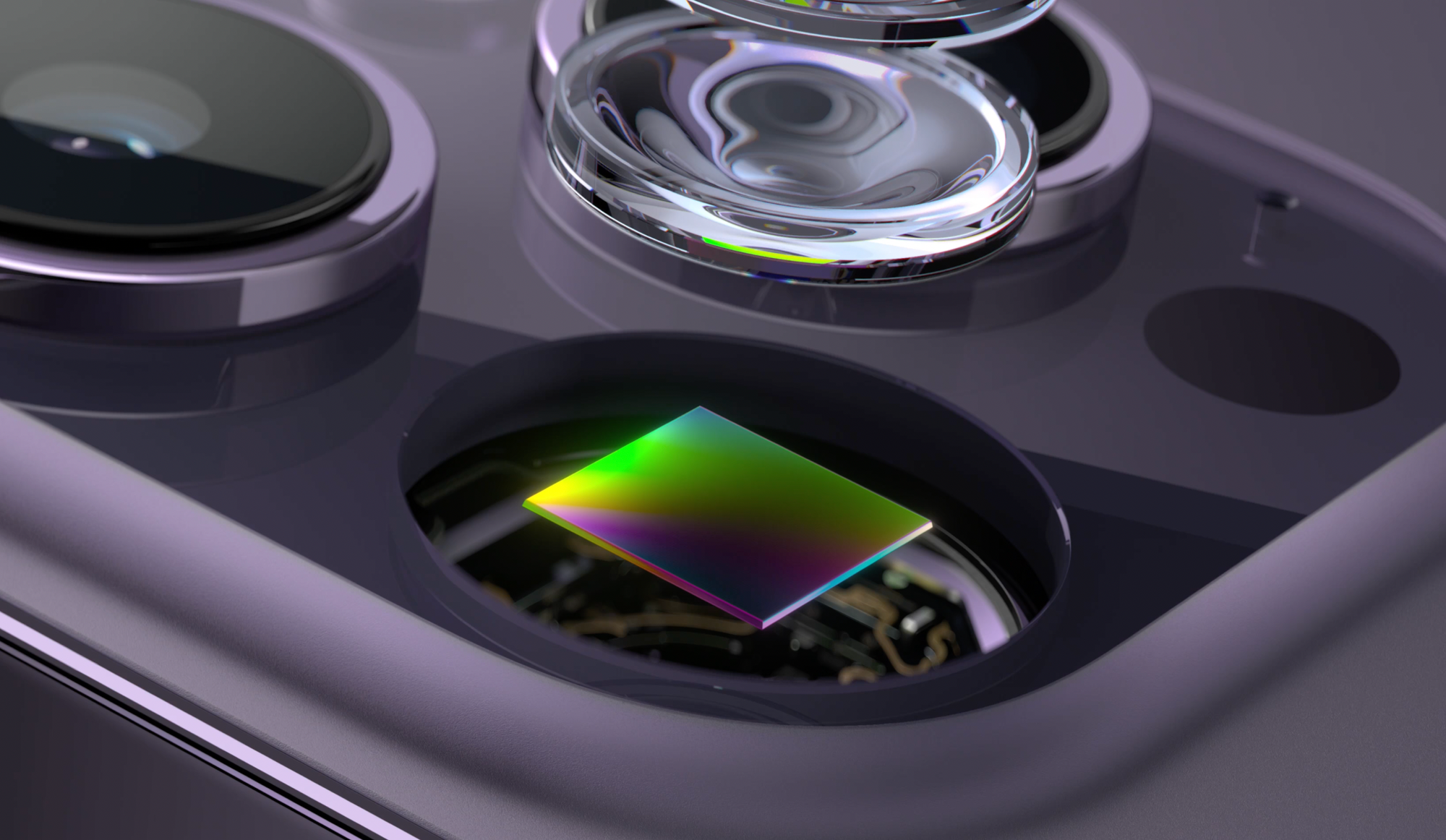 Huge breakthroughs today are just as much about software as hardware. Sure, software can't replace a giant large telephoto zoom lens (yet), but it allows for breakthroughs in dynamic range, exposure, night photography, adding nice blurred backgrounds, and much more. When it comes to computational photography, the quality of your software and processing power plays as important a role as the physical camera itself. It's silly to judge the new iPhone entirely on sensor specs, and we can't wait to run full package through its paces as soon as it arrives at Halide HQ.
iPhone 14 Pro Technical Readout Comparison
Without further ado, here's a side by side comparison with the iPhone 13 Pro to iPhone 14 Pro. Specs changes are marked in bold:
Wide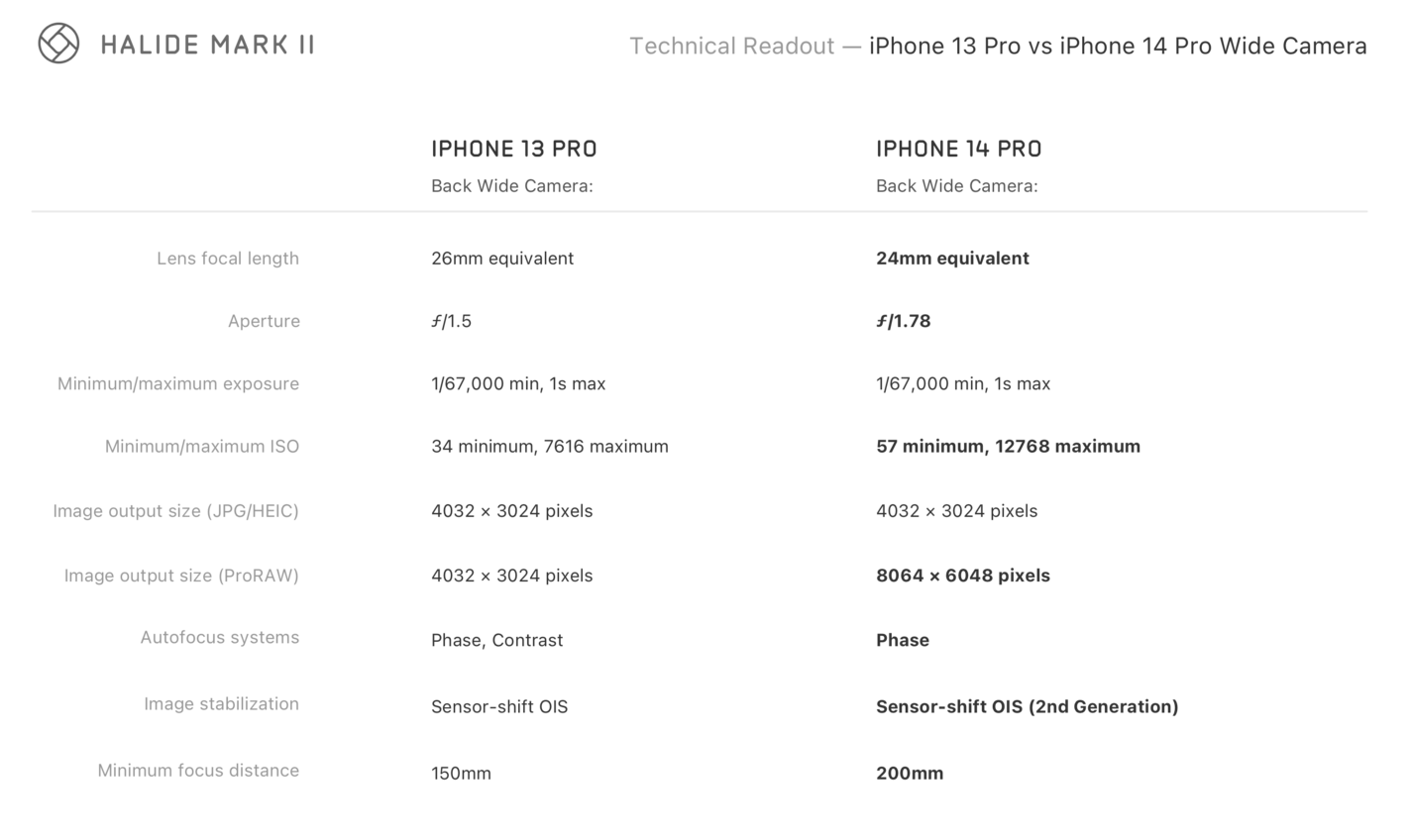 The Wide camera sees the greatest changes. The lens gets a bit wider, a 2mm focal length difference. The aperture is smaller ('slower'), means the lens collects less light. This was probably necessary to work with a larger sensor. We calculate that the Wide camera is able to collect 20% more light compared to last year's camera, even with this slightly worse aperture, thanks to its larger size.
We're astonished by the improvement in the camera sensor's ISO range. It goes far beyond previous iPhone cameras. Given high ISO values are accompanied by more noise, it's highly likely this ISO range is made possible by how its higher resolution sensor combines 4 pixels into one, vastly reducing noise.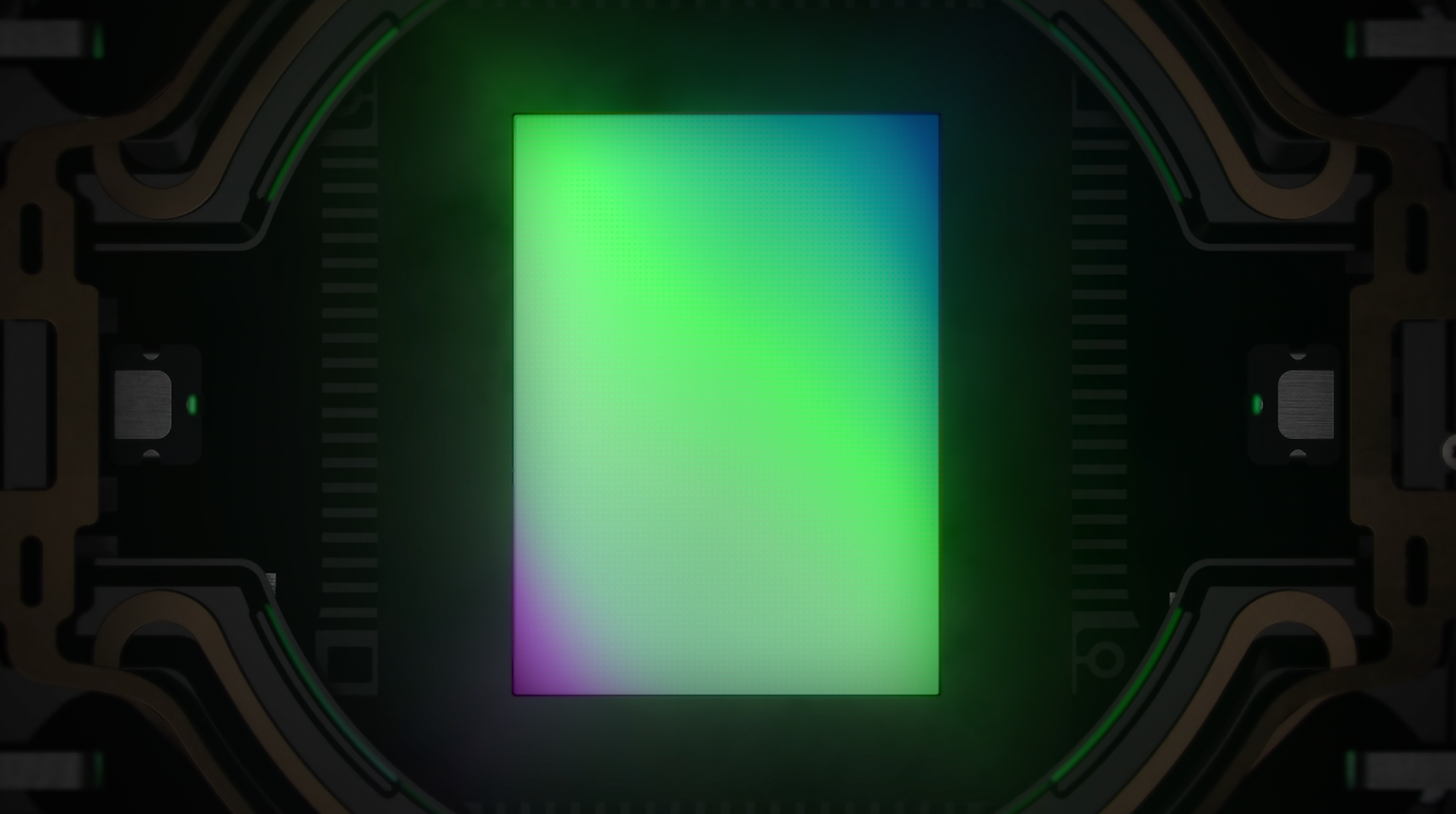 Apple refers to this as 'quad-pixel', and for almost all apps, it is how the camera will operate. By default, camera apps will 'see' the new Wide camera as if it were a 12 megapixel camera. Behind the scenes, iOS will downsize those 48 megapixels, combining four pixels into one, reducing noise. This will avoid breaking third-party apps, which probably aren't ready for those larger images that require 4x the memory.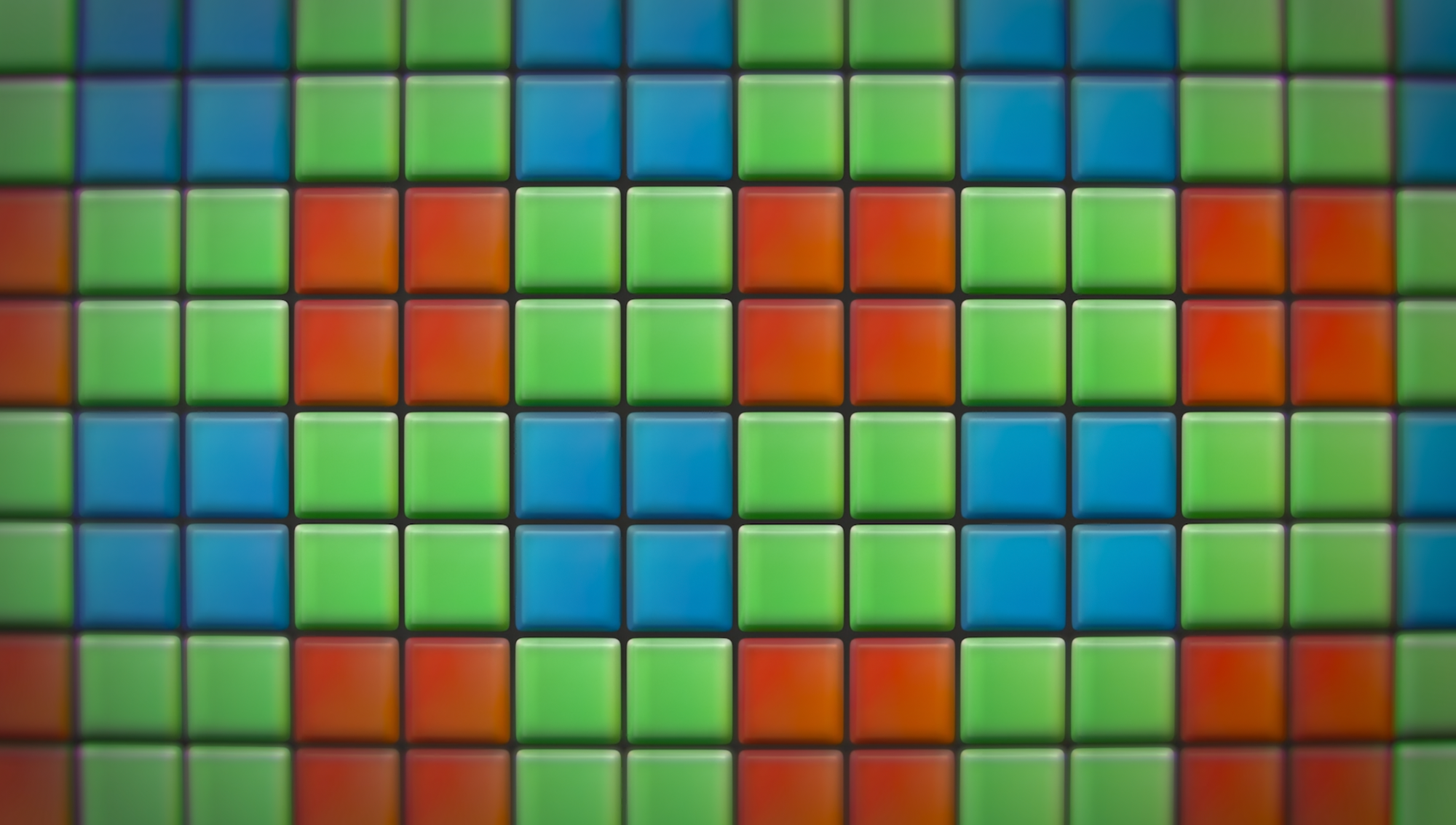 It does mean that if you were hoping to shoot 48 megapixel JPGs, you are likely out of luck without a third party camera app. With the first-party camera app, you can only capture 48 megapixel images by shooting in ProRAW. We hope this was a product choice as opposed to a technical limitation, and they leave more options available to third-party developers.
We look forward to testing the sensor in low-light: its high ISO range, quad-pixel shooting and claimed 'second generation' sensor-shift stabilization, we are expecting a big leap in image quality in at night.
Finally, we noticed that minimum focus distance — which is the closest the camera will focus on objects — has taken a step back, going from 150mm (5.9 inches) to 200mm (7.8 inches). While two inches doesn't seem like much, if you were frustrated by your iPhone 13 switching between the ultra-wide ('macro') lens and regular camera, it's possible this could happen a little more often new iPhone. The new lens design just can't focus as close as the 13 Pro's. We'll be interested in seeing how much they've mitigated this in software.
Telephoto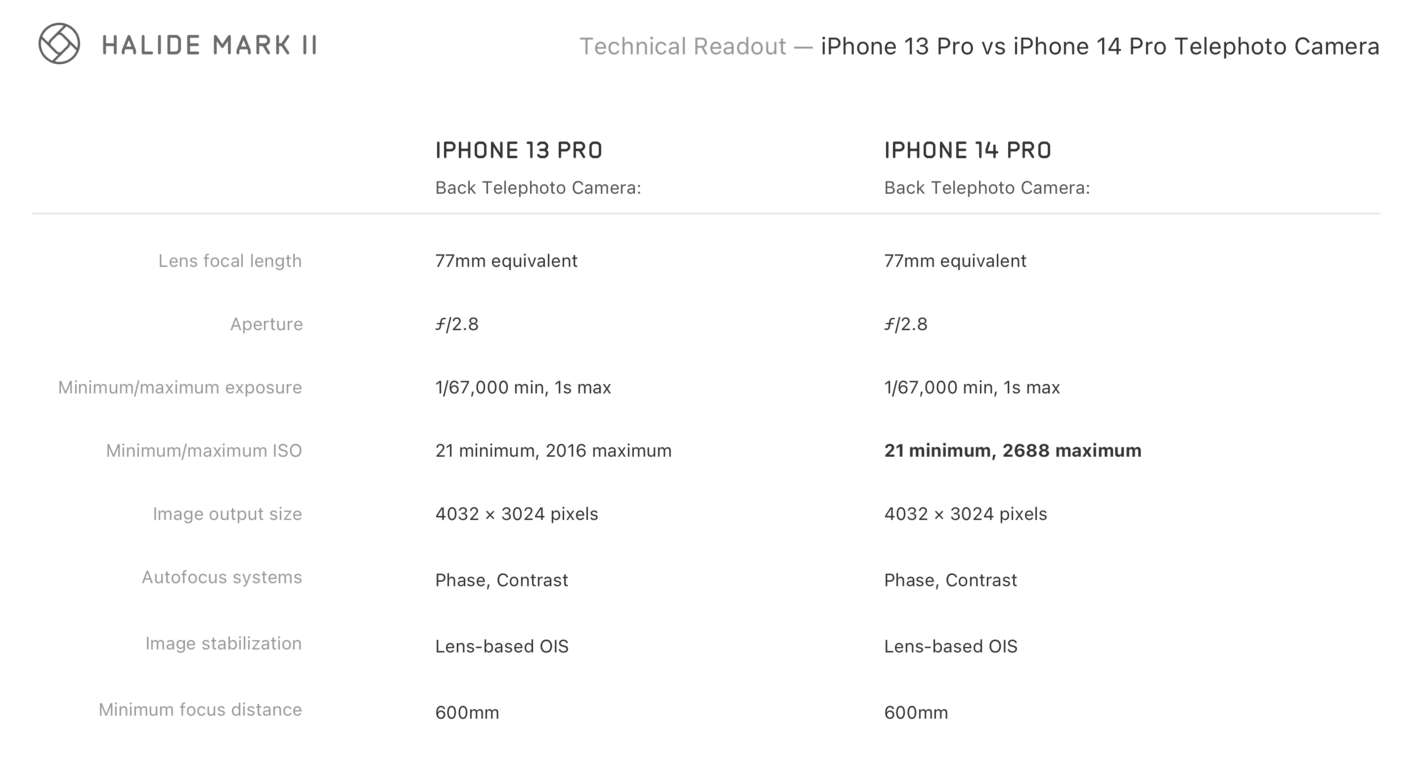 The telephoto camera might be our team's favorite, and it sees a fairly small spec bump. Apple has been fairly mum about this camera, only calling it 'improved'. They might just mean that it benefits from the new Photonic Engine software pipeline, but the improved ISO range gives us hope they upgraded the sensor.
Ultra-Wide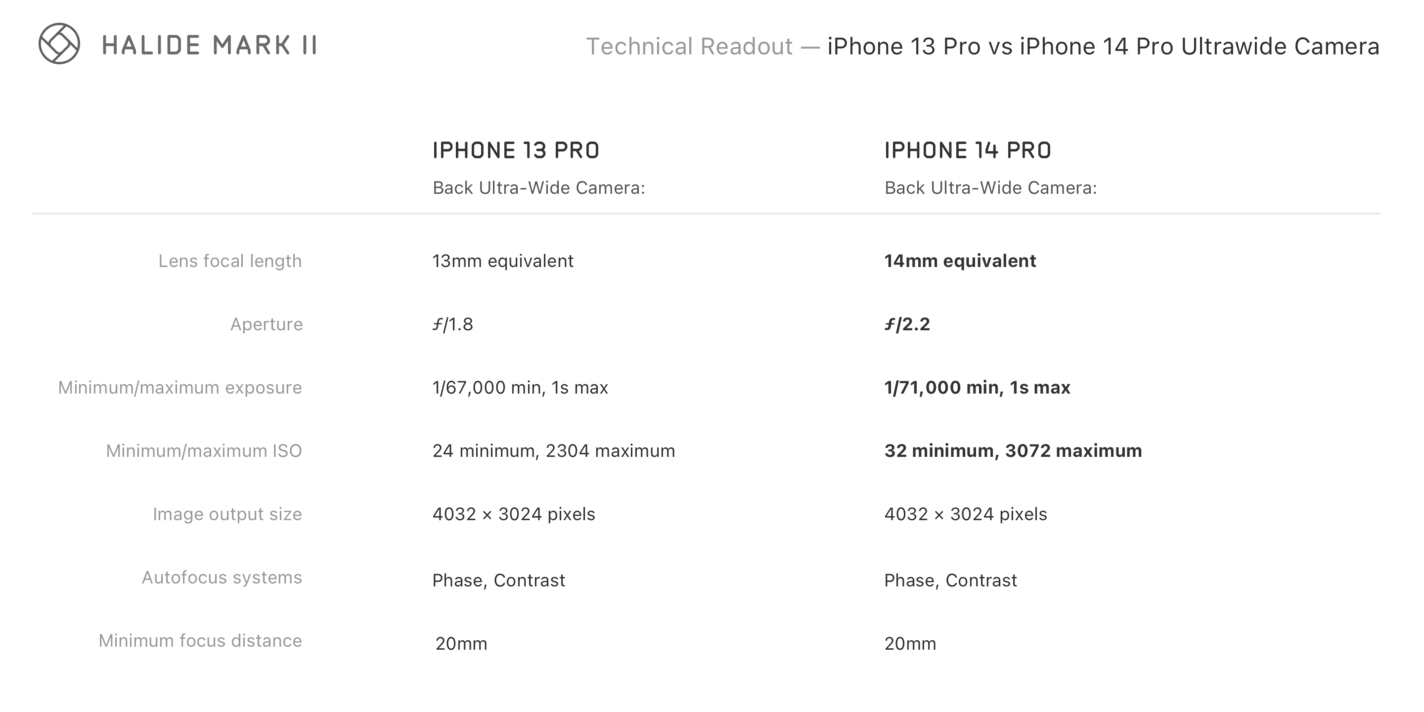 With iPhone 13 Pro, Apple got serious about the image quality on its Ultra-Wide camera. This year, we're seeing another sensor size bump; its larger pixels and area offset a slightly slower aperture. However, it lost a slight touch of its ultra-wideness, moving to a 14mm focal length (full frame equivalent).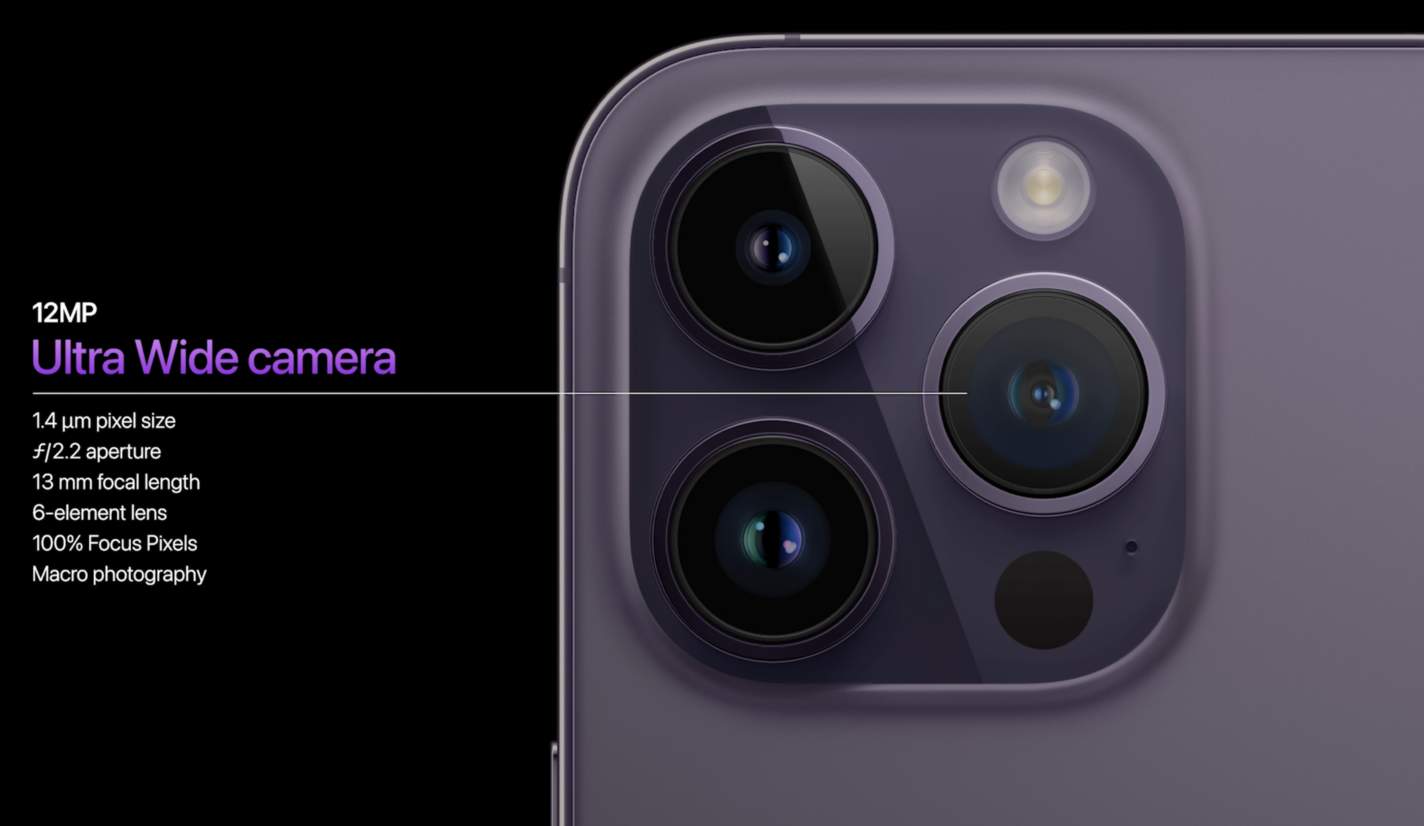 Across the board, we are seeing what should be solid low-light improvements. A larger sensor and higher ISO sensitivity should allow this camera to further mature to be a good option for high-quality images. Apple actually claimed the greatest improvements to this camera in its keynote, claiming 'up to 3×' better images. We will have to see what that entails in testing.
Front-facing
Apple made a big change to the front of the iPhone this year. The Dynamic Island features the TrueDepth hardware we've come to love; a host of IR projector/sensor hardware to enable Face ID and a regular old front-facing (or 'selfie') camera. Despite being shrunk into a little isle, the front-facing camera got an upgrade.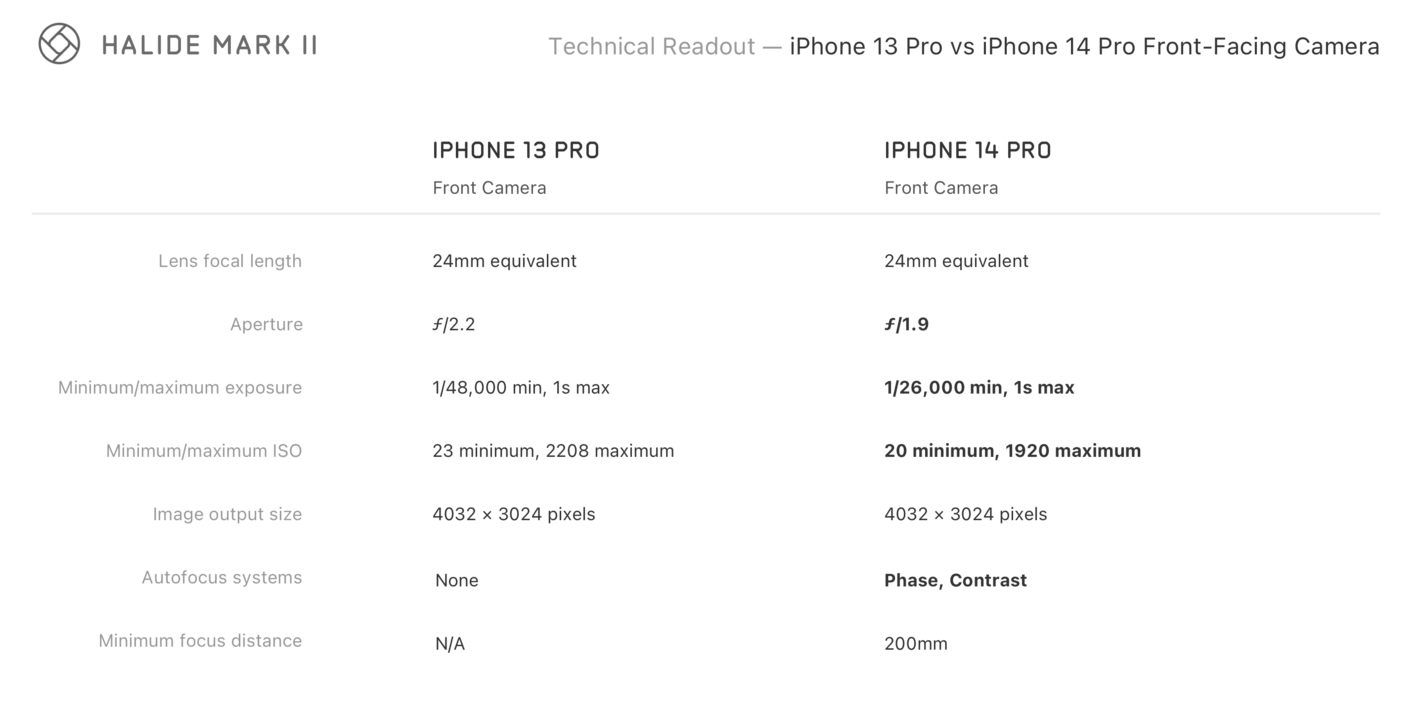 A big change here is the front-facing camera gaining variable focus (and autofocus) for the first time since the very first iPhone. In addition, a nice improvement in aperture should allow a bit more depth of field and light to reach this little camera. We'll have to see how much of a difference or need there is for autofocus; if the sensor is indeed larger this year, it might allow for sharper shots.
What remained the same
We haven't been able to confirm many changes in the telephoto and LIDAR systems on the iPhone 14 Pro. Despite this, we are seeing signs that point to an all-new telephoto camera sensor. The LIDAR system has changed slightly, throwing a wider grid of dots that corresponds with the new, wider 24mm focal length of the Wide camera. Otherwise, it appears unchanged, and so does the TrueDepth depth-sensing infrared hardware despite its miniaturization.
Stay tuned
As is tradition, we are going to test the iPhone 14 Pro's camera system deeply — planning several outings in Mexico and the desert Southwest. We'll be testing 48 megapixel shooting, RAW performance, quad-pixel ins and outs and extensively inspecting the new Photonic Engine. We will also be checking out the new iPhone 14's camera. In the mean time, check out Austin Mann's excellent iPhone 14 Pro camera review.
You can follow us on Twitter or Instagram to read about our findings in the meantime.